Notion is the perfect platform to use when it comes to content. It makes it so easy to organize, manage and collaborate on content.
It is the perfect CMS for blogging. I use Notion for writing all of my content. If you or your company uses Notion and want to create a blog with Notion, then you have come to the right place.
Just follow these steps and within 2 minutes, you will have a brand new SEO-optimized blog ready to go live.
Step 0: Go to feather.so and sign up for the free trial.
Feather
is a blogging platform that uses
Notion as the CMS
. Feather is the perfect Notion companion when it comes to blogging.
When you use Feather to create your blog, you get so many extra benefits.
Notion as CMS
Feather uses Notion as the Content Management System.
So, you still write, manage and collaborate on your content from Notion. That doesn't change.
Feather reads your Notion content and creates a professional blog out of it.
Custom Domain or Sub Folder
Feather manages the hosting and scaling of your blog.
You can just attach your custom domain to your Feather blog and Feather takes care of everything else.
Feather can even handle millions of daily visitors with ease.
Your domain can be a root domain, subdomain, or subfolder.
It doesn't matter which domain structure you want to use, Feather supports everything.
If you have an existing marketing website on Carrd, Webflow, Next.js, Typedream, Softr, AWS, etc, Feather can easily be on a subfolder /blog of your existing domain.
For example, assume you are using Webflow for your marketing website, but for the blog, you want to use Notion. That's possible with Feather.
Your Webflow website will be on yourdomain.com and the Notion blog you create with Feather will be on yourdomain.com/blog.
This is also very good for SEO as the blog will be on the same domain as your main website and is part of the main website.
SEO Optimized
One of the main reasons why people start creating a blog is to get some organic traffic – Traffic from search engines like Google.
When you use Feather to create your blog, your blog will be optimized for these search engines. We follow all the guidelines specified by these search engines and made it super easy for Google to discover and index your blog.
To put it simply, all that is left for you to do is write good content that people are searching for. That's all. Feather takes care of everything else related to search engine optimization.
Analytics
Once you create a blog, you need to know which posts are performing better. Feather once again makes it super easy to track this.
Every blog you create on Feather will get its own analytics dashboard where you can see how many visitors you are getting, which posts/pages are performing best, where are the readers coming from, which links are the readers clicking on, etc.
You don't have to do anything to set up analytics. Everything is done for you.
Sitemap and RSS Feed
Feather generates a dynamic sitemap and RSS feed for your blog.
A sitemap makes it easy for Google to know what all posts and pages you have in your blog.
People can subscribe to your blog RSS Feed and get notified when you publish a new post.
RSS Feed and Sitemap will always be dynamic and in sync with Notion.
Many more benefits
There are a lot more benefits and reasons why Feather is the best way to start a blog if you or your company uses Notion for managing content. You will discover more after you create your blog.
If you are already convinced about using Feather and Notion to create your blog, you can just follow the below steps to create your blog.
Step1: Duplicate Databases
As soon as you log in to the
Feather
dashboard, you will see a button to
Create your blog.
Once you click that, your blog creation process starts.
The first step is to duplicate the Notion template that Feather provides.
All you have to do is to Click on Duplicate Databases button and Feather automatically duplicates the Notion template to your Notion workspace.
You will see a new page got created in your Notion workspace and that Notion page has 4 databases – Content, Pages, Tags, and Authors.
This Notion page is all you need to create a complete blog with Notion and Feather.
If you already have your own Notion databases, you can use them too instead of duplicating the Feather template.
Now that you have your Notion page, you need to make that Notion page public so that Feather can read it and create your blog.
To do that, click on Share at the top right and toggle on the Share to Web option.
Now, you can go back to Feather, click on Next, and continue the blog creation process.
Step 2: Connect the Notion Databases
You will now see that there are 4 tabs in the dashboard – Content, Pages, Tags, and Authors.
As we have seen earlier, even our Notion page has 4 databases – Content, Pages, Tags, and Authors.
Now, all we have to do is Copy the links of each of the databases and paste it into Feather to connect them.
Content Database
Content database is the database where you write all your blog posts.
Go to your Notion page and copy the link to the content database.
Notion makes this process super easy, all you have to do is click on the 6 dots on the left on the Content and then click on Copy Link.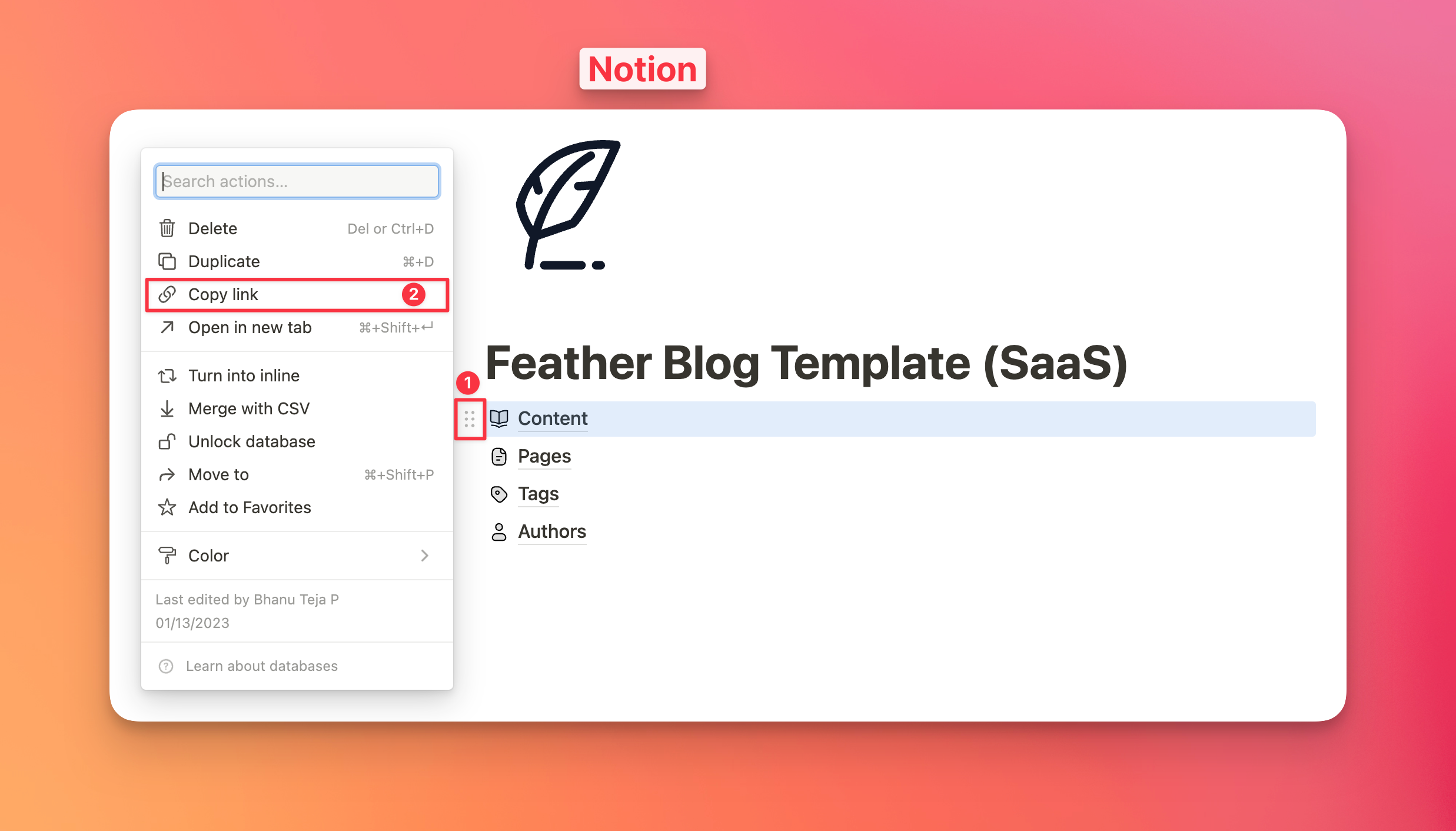 Alternatively, you can even open the Content database and copy the link from there.
Now, come back to Feather and paste the copied link and click on Connect Database.
Once you click on Connect Database, you will see the below screen. This is where you map your Notion properties to Feather. The process is designed in this way to give you at most flexibility.
If you are already using the default Feather template, you don't need to change anything here. All the required fields and properties will be automatically mapped. You can go ahead and click on Next.
You can now repeat the same process for other databases too – Pages, Tags, and Authors.
If you don't immediately have the need for Pages, Tags, and Authors, you can just skip them by clicking on Next. You can connect them later too after creating your blog. But make sure you at least connect the Content database.
Step 3: Choose a name and domain for your blog
We are in the final step now. Just choose a name for your blog and a subdomain.
Don't worry, you can change these later too.
If you want to connect your own custom domain to your blog, you can do that after the blog got created. For now, just choose a name and create your blog.
Step 4: Your professional blog is ready!
That's it 🎉. You now own a professionally designed blog with all your content still on Notion.
You can now visit your blog, customize it, add your own domain, and start publishing your content today.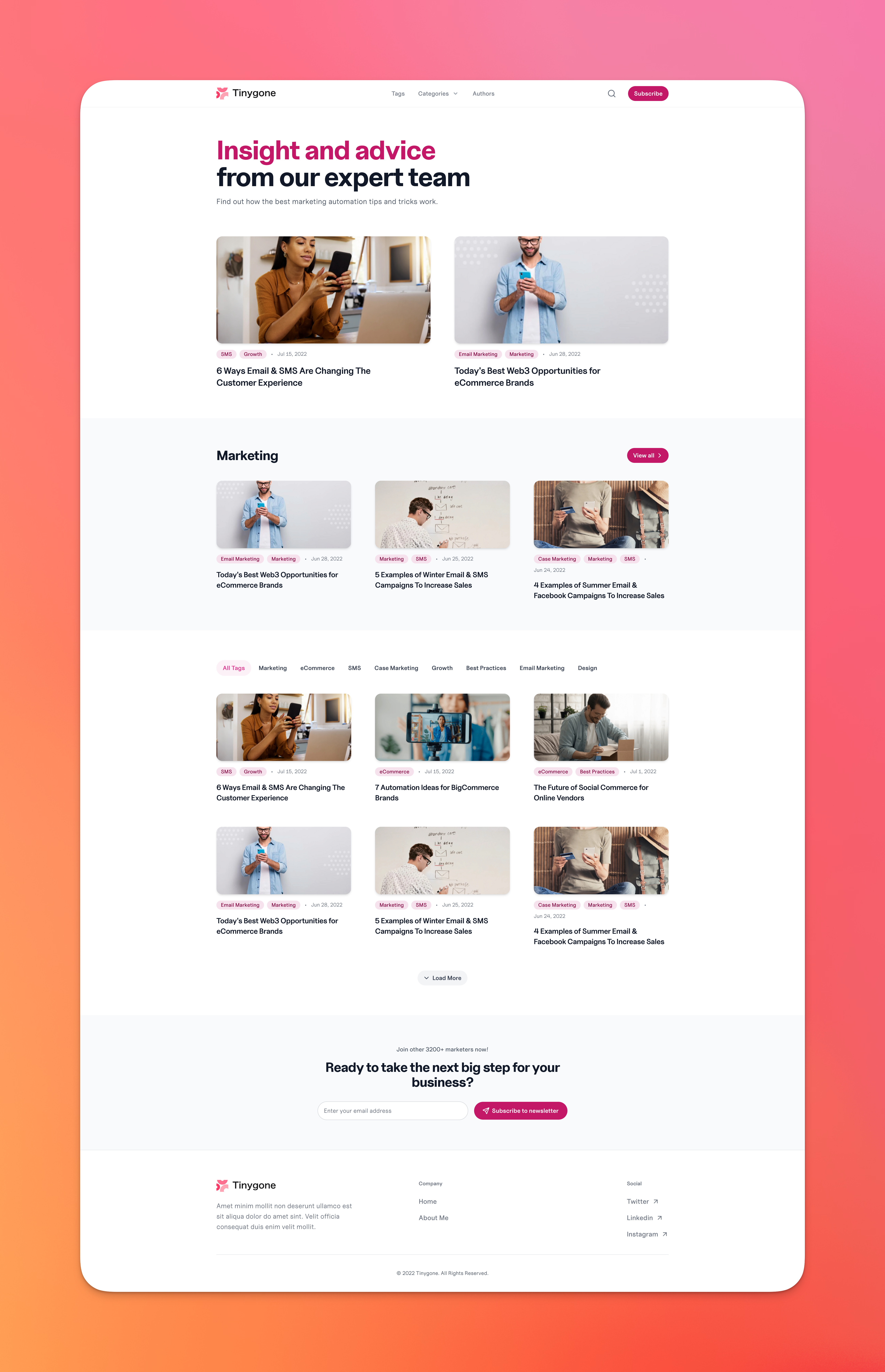 Written by